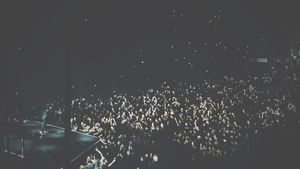 Bio
Chris is currently the drummer for MILONGA,a popular Latin band based in the Pacific Northwest and Black Dolly(BD),a band he formed that features his wife Wendy on vocals and NW musicians Frazer Wambeke(keyboard/vox), Eddie Ramirez(bass), and Tim Zilar (guitar). In addition to MILONGA and BD, Chris also stays busy playing with a variety of artists throughout the northwest United States. Chris has been blessed to share the stage with artists such as Victor Wooten, Jeff Coffin, Ingrid Jensen, Derico Watson, Bob McChesney, Calabria Foti, Los Lobos, Spokane Jazz Orchestra, and many more. He also maintains a busy teaching schedule along with composing/arranging music for groups around the country. Chris endorses and clinics for Remo Drumheads, Vic Firth Sticks and Mallets, and is a Regional Yamaha Drum Set artist. 
As a composer, Chris has experience writing for various groups in a variety of contexts.  He has composed for numerous High School performing ensembles throughout the United States. He has written music for film, podcasts, bands, fashion shows, and much more. 
As an educator, Chris has overseen the Jazz and Orchestra programs at Hanford High School in Richland, WA since 2010. He has helped establish Hanford High as one of the premier high school instrumental programs in the northwest United States. He has been a clinician at the NW Music Educator's Conference, Washington All State Conference, and ASTA National Conference.
Chris and his wife Wendy live in Pasco, WA with their daughter Nile and sons Cairo and Cruz.